Tags
American tyranny, CIA, geopolitical strategies, Inessa Sinchougova, MI5, MI6, NATO, NATO-backed mercenaries, NATO-backed terrorists, Putin, Russia, Russian Defense Ministry, Russian Defense System, Sanctions, US regime, USA, USA plots, vladimir putin, War Strategy, Warmongers, Washington
The Russian companies have been sanctioned by Washington over their alleged engagement in nuclear proliferation activity with Iran, North Korea and Syria. Paul Graig Robers, former Assistant Secretary of US Treasury, talks to RT on the issue.
---
'Against US security interests': Moscow bewildered over new sanctions on 8 defense & aviation firms.
Russia's Foreign Ministry has said it is "bewildered and disappointed" over new US sanctions targeting eight Russian companies, including defense firms and pilot training academies, which the State Department claims engage in "proliferation" activity with Iran, North Korea and Syria.
While the restrictions will cause "no serious problems" for Russia, they undermine the fight against global terrorism, which Washington has been claiming is its priority, the Russian Foreign Ministry's spokeswoman Maria Zakharova said in a statement posted on Facebook.
"This step runs counter to the statements we hear from Washington that emphasize the fight against terrorism, in particular in Syria, where it has gained a foothold. On the contrary, it is completely at odds with such declarations and undermines the prospects of setting up comprehensive multilateral cooperation to destroy Islamic State [IS, formerly ISIS,ISIL] and other terrorist groups that pose a threat to all countries, including the US," Zakharova said.
"Washington again does the bidding of those who made a consistent destruction of Russia-US cooperation their main priority. These people have long been searching for enemies in the place where they don't really exist. Such an approach does not obviously meet the security interests of the US," Zakharova said.
The Russian companies have been sanctioned by Washington over their alleged engagement in nuclear proliferation activity with Iran, North Korea and Syria, a source in the State Department told RIA Novosti on Saturday.
The sanctions have been introduced as a result of regular assessments, as required by US law, the source said, adding that the measure is not connected to wider economic restrictions put in force since 2014 over the situation in Ukraine and Crimea.
Companies such as Rosoboronexport and Aviaexport, as well as several aviation training centers and academies, have been included on the new US sanctions list, RIA reported.
On Friday, the Trump administration announced sanctions on 30 foreign companies and people from 10 countries accused of engaging in nuclear proliferation activity.
"These determinations underscore that the United States continues to regularly impose sanctions under existing authorities, as warranted, against entities and individuals that engage in proliferation activity with Iran, North Korea, and Syria," the State Department said in a statement.
Apart from Russia, entities from China, North Korea and the United Arab Emirates have been sanctioned, with the restrictions to stay in effect for two years.
The 11 entities, largely from China, were sanctioned "specifically for transfers to Iran's missile program," the State Department said. "Nineteen more companies or people have been accused of having "transferred to, or acquired from, Iran, North Korea, or Syria goods, services, or technology… or other items that could make a material contribution to the development of weapons of mass destruction or missile proliferation."
---
RELATED:
Russian Foreign Ministry spokeswoman Maria Zakharova stressed that western states' refusal to condemn the recent terror attacks in Damascus indicates their unwillingness to take effective steps to combat terrorism.
Zakharova, at her weekly press conference held Thursday, noted that the refusal to condemn terrorist attacks which hit Damascus in March and their secrecy over these bloody acts as well as facts related to the ISIS' use of chemical weapons in Syria and Iraq stresses that they do not have desire to take effective measures to deter terrorist threat.
She pointed out to the continued supply of weapons, ammunitions, funds and recruiters to terrorists, adding that the terrorist attacks in Damascus and the countryside of Hama stresses that the fight against terrorism should remain a priority on the agenda of Syrian talks in Geneva.
On Geneva talks, Zakharova said that the agenda includes issues related to a confidential non-sectarian system of governance, setting up a new constitution and holding elections according to this constitution and combating terrorism, indicating that any resolutions to be implemented in this context should be acceptable and agreed on by the Syrian people themselves.
She said that Russia welcomes Damascus' determination to achieve practical outcomes during this round of Geneva talks, expressing hope that the Syrian opposition representatives will show potentials to reach an accord and restore peace and security to the country.
Zakharova said that there are parties which are not pleased with the progress made regarding the activation of the Syrian political process, adding that several attempts to hinder this track were registered as some opposition representatives set preconditions to negotiate.
The fifth round of the Syrian-Syrian talks is scheduled to start on Friday with the participation of the Syrian Arab Republic delegation and delegations from the opposition.
---
RELATED:
Keiser Report: Heading for Global War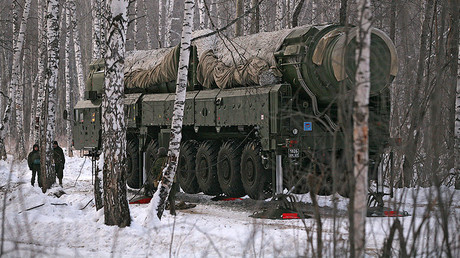 ---
---
SOURCES:
Russia Today
Submitted by SyrianPatriots
War Press Info Network at :
https://syrianfreepress.wordpress.com/2017/03/26/usa-sanctioned-russia/
~
Re-publications are welcome, but we kindly ask you,
to facilitate the correct information's diffusion,
to cite all these original links and sources.
---
NOTE: The contents of the articles, speeches or comments on this page are of sole responsibility of their authors. The team and the editorial staff of SyrianFreePress do not necessarily subscribe every point of view expressed and are not responsible for any inaccurate, incorrect or offensive statement in this article. Complaints and corrections (verifiable) will be welcomed and accepted. Copyright owners can notify their claims to us, and the verified contents will be removed.
SCROLL DOWN TO READ OR LEAVE COMMENTS
---